Reply
Topic Options
Mark Topic as New

Mark Topic as Read

Float this Topic to the Top

Bookmark

Subscribe
FCC Regulations and Security PIN
[ Edited ]
Options
Mark as New

Bookmark

Subscribe
‎01-27-2011 04:07 PM - last edited on ‎01-27-2011 06:31 PM by CC_Dete
This step-by-step guide is directed to customers attempting to log in to Customer Central who receive the following message:
"In accordance with FCC regulations, Comcast requires you to enter your Security PIN and create a Security Question and Answer before you proceed. This will only take a few moments. Thank you."
Why are you receiving this message and what is CPNI?
The new FCC rules require customers to provide a password when they contact a carrier by phone before the carrier can release call-detail CPNI. Carriers must also password-protect online CPNI access. In addition, the new rules require carriers to notify customers of account changes, such as if the customer's password or address changes, and to notify customers or unauthorized disclosure of CPNI; however, law enforcement agencies can delay customer notification. The rules further require carriers to obtain opt-in consent from customers before disclosing their CPNI to a carrier's joint venture partner or independent contractor for marketing purposes.
1. When selecting "Update Account" you may be taken to a prompt with the following message:
"Comcast requires you to update your account information at this time. Please chat with a Comcast representative."
2. Depending on the result of the chat, you may require additional assistance.
Do you have Comcast Digital Voice? Have you recently ordered Comcast Digital Voice but it is not yet installed?
If the answer to either of those questions is YES, the message you are receiving is not an error. For customers with Comcast Digital Voice already installed, a PIN will be sent to you via US mail. If the service is not yet installed, you will not receive the PIN until order for service has been completed and a technician installs your Comcast Digital Voice service.
Why do you need the PIN?
The Security PIN gives you access to online voice features and protects your sensitive voice information such as voice mail and call logs. As a new customer, you will receive your Security PIN through the mail during account set up.
You need a Security PIN for the following scenarios:
Entering a Security PIN
Log in to the SmartZone Communications Center (after you have received your Security PIN via USPS)
Click the Customer Central login link from the home tab or voice tab message
You must re-enter your password for security purposes
Enter your Security PIN in the Security PIN field, then select a Security Question from the drop-down menu and enter your secret answer

Note: The Security Question will be used if you cannot remember your Security PIN.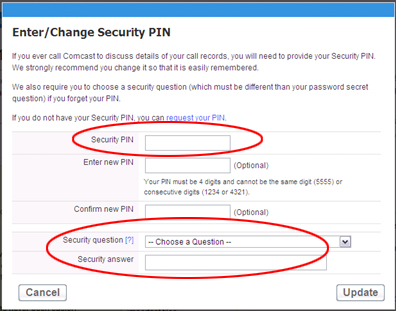 Click Update - you can now access your online voice data


If you do not have Comcast phone service and you are receiving this message, please contact our Customer Support team at 1-800-Comcast for additional assistance.
---
Comcast employees must be authorized to post in the forum in an official capacity. Employees posting here have their names in red and are designated as employees. Names not in red are customers.
This is done to protect customers and for assurance that they are dealing with a Comcast employee.
Non-Authorized Employees are allowed to post but cannot state they are employees nor can they allude to being employees.